---
 Coming in 2018!
The Addison Arbor Foundation (AAF) has commissioned two new pieces for 2018: a kinetic butterfly piece by artist David B. Hickman and a stone sculpture by local artist Eliseo Garcia .
Spruill Park Dog Sculpture
At the entrance of the newly opened Spruill Dog Park stands a very large dog carved out of stone!  AAF commissioned Eliseo Garcia to bring to life a whimsical dog from limestone.  Eliseo is an internationally known artist whose works can be seen throughout the DFW area.  Eliseo sculpted the dog on site.  The dog is in a play bow position and is trying to find his bone.
The bone, created by artist Nic Noblique, is located a few feet away.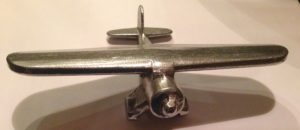 For a limited time, you still can buy a piece of an original Addison sculpture for only $100.  We currently have available two remaining miniature airplanes that were made for the Intersection in Flight sculpture.  The aluminum  art work comes with a certificate of authenticity from artist Eric McGehearty.  Proceeds will be used to fund future Addison projects.
  Les Lacs Beautification Project
AAF provided funding for the Town of Addison's Les Lacs Park Beautification project.