---
 Spruill Park Dog Sculpture
The Addison Arbor Foundation (AAF) has commissioned local sculptor Eliseo Garcia to bring to life a whimsical dog from limestone.  Eliseo is an internationally known artist whose works can be seen throughout the DFW area.
Eliseo is sculpting the dog on the site of the entrance to the new dog park at Spruill Park.
You can see him working most weekdays from 9 -2.  The piece is planned to be complete before the opening of the dog park area this summer.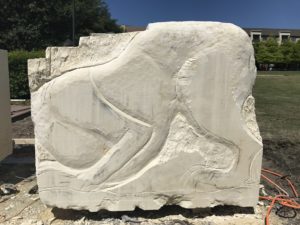 Own a piece of Addison public art!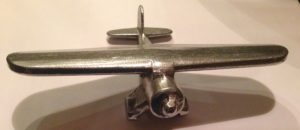 For a limited time, you still can buy a piece of an original Addison sculpture.  We currently have available a few remaining miniature airplanes that were made for the Intersection in Flight sculpture.
The aluminum  art work comes with a certificate of authenticity from artist Eric McGehearty.  These make nice presents for the holidays.  Reserve yours now for the special price of $100.  Proceeds will be used to fund future Addison projects.  Reserve yours today!
2016 featured three art additions to the Town of Addison!
AAF appreciates the support of the Town of Addison and also Addison Magazine to inform residents about our activities and latest art pieces.  Addison Magazine's 2016 October/November issue feature cover story was "Public Art: A Walk Around Town".  The article featured many art works sponsored by the Addison Arbor Foundation and created by Texas artists such as Nic Noblique, Jim Eppler and Addison entrepreneur Eric McGehearty.  The 2017 April/May issue featured information about Addison's parks and public art features.
Addison Magazine October/November 2016 online edition
 

Intersection in Flight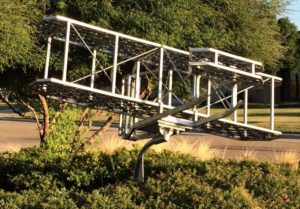 AAF commissioned the aviation themed pieced "Intersection in Flight", created by local entrepreneur and artist Eric McGehearty.  "Intersection in Flight", was inspired by the history of the namesakes of the intersection and their vintage aircraft.  Eric's design incorporates elements of the airplanes flown by the Wright Brothers and Wiley Post in an innovative and intricate sculpture. The frame of the sculpture is based on the Wright Brothers' Flyer aircraft. Embedded within the frame are 232 miniature planes based on the Lockheed Vega aircraft flown by Wiley Post.  The sculpture is located at the intersection of Wright Brothers and Wiley Post!
Lost in Wisconsin
This beautiful sculpture was donated to the Addison Arbor Foundation by renowned Texas artist Nic Noblique.  The piece was installed at the newly refurbished corner at Proton and Beltway near the Addison Athletic Club.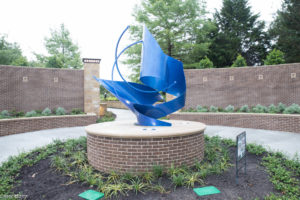 Doves in Oaks North
This AAF sponsored art work, Peace and Tranquility,  is a pair of realistic doves created by Jim Eppler placed in the Oaks North area.  The funding for this sculpture and installation was largely provided by the family and friends of Roger S. Mellow.  The doves were installed just in time for the annual HOA picnic.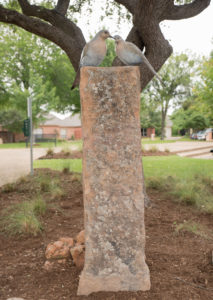 Les Lacs Beautification Project
AAF provided funding for the Town of Addison's Les Lacs Park Beautification project.